Pressure Washing
Impact Commercial Cleaning Services provides commercial power washing for exterior surfaces, like pedestrian walkways and steps, courtyards, outdoor eating and seating areas, and more. Impact Commercial Cleaning Services has been in the commercial cleaning business for more than 21 years.
We offer routine pressure washing services for commercial customers throughout Davidson County, Tennessee. We also offer seasonal cleaning and special event cleaning. Call (615) 200-6628 to schedule one of our knowledgeable commercial pressure washers.
We've got the power.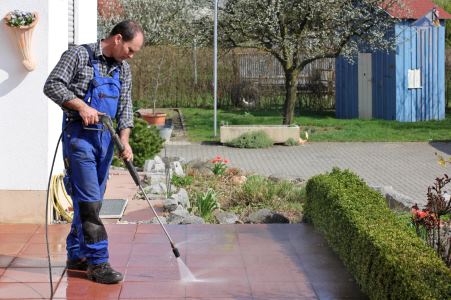 Outdoor areas get dirty fast. Impact Commercial Cleaning Services offers pressure washing services for Tennessee commercial clients.
Make sure your outdoor commercial space is customer ready. We provide power washing for courtyards, entry ways, steps, walkways, and more.
Our powerful pressure washing equipment will get rid of dirt, leaves and other environmental debris, animal waste, mold, and moss.
Make sure the exterior of your building is clean and safe for your customers, with expert pressure washing by Impact Commercial Cleaning Services.
Call (615) 200-6628 for a no-cost, commercial pressure washing estimate.